Working with James Cameron on Avatar: the Way of Water was a dream come true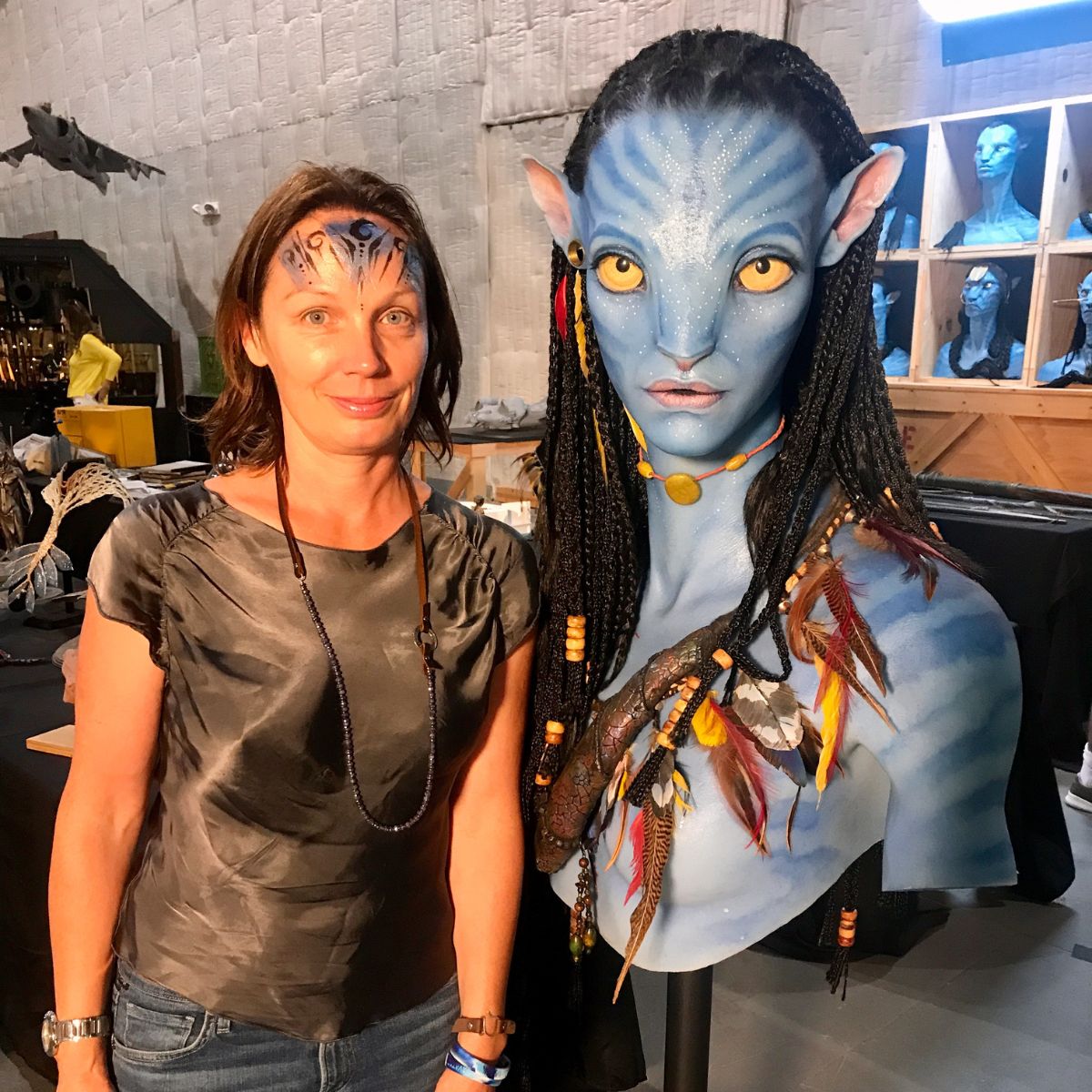 "I hope that Avatar: The Way of Water aside from entertaining the viewers with the stunning underwater world, will also convey a message about living in balance with Nature," started the interview that Szilvia Gogh gave to index.hu about working with James Cameron for two and a half years.
There is no shortage of versatile talents in Hollywood, but even among them, Szilvia Gőgh is remarkable. She specializes in water as a stuntwoman and provides water safety and scuba training to fellow stunt performers and actors in Los Angeles.
When we say that she is one of the most reliable people in her profession, we are not exaggerating a bit. This is not so difficult to look up, on the IMDb page it is clear that the Hungarian woman, who was inducted to the Women Divers Hall of Fame in 2017, assisted in the water scenes of world-famous blockbusters and big-budget TV series. She also makes jewelry inspired by nature, runs a company that inspires adventurous women to dive, and on her website she talks honestly about how she recovered from cancer.
We can only feel sorry for those who are not watching the new Avatar in 3D. The film became something really special.
The movie Avatar - The Way of Water, released in cinemas on December 15, was made with a huge budget of around 350 million dollars and with unprecedented technology. Film director James Cameron worked on his project for many years at a tense pace, confident that it would not only explode at the box office. with him, but really shows film fanatics something new.
One of the key members of this crew was Szilvia Gőgh, with whom we talked about her work on Avatar 2.


How did you get on the crew of Avatar - The Way of Water?
There was a lot of hype around the film, understandably a million people wanted to work on the sequel to Avatar. Joining James Cameron's crew is a once-in-a-lifetime opportunity. In short, it so happened that I had previously worked with the leaders of the stunt and marine team on another film, and they remembered me.
You have been working in the movie industry for a long time, what projects have you worked on recently?
Olivia Wilde's new thriller, Don't Worry, Darling! I taught Florence Pugh to scuba dive and provided water safety for the shoots. I worked on 911-Lone Star as a Marine Coordinator. At the beginning of November, the movie Slumberland debuted on Netflix starring Jason Momoa. I prepared the child actor, Marlow Barkley, for the water scenes. I also worked on Fast and Furious 9 and one of the new Star Wars series, Obi-Wan Kenobi.
What exactly does a safety diver do?
On Avatar, my specific task was to keep everyone in the water alive. Whether it was Sigourney Weaver, Zoey Saldana, Sam Worthington, Cliff Curtis, the children, stunts, camera operators, grip team and James Cameron… I had to make sure everybody is safe in the water. I was one of our amazing water team of safety divers.


What could you tell us about the director James Cameron, how much did you meet him?
I worked on Avatar for two and a half years with him. James Cameron is an absolute maximalist, I think many people know that about him. I have to say, of all the directors I've ever worked with in my life, I liked working with him the most because he could tell me exactly what he wanted to see and what we should do. Cameron never told us to retake a scene, only better, but he had precise ideas about what to change, whether the momentum of the movement should be greater, whether we should move something to the right or to the left a bit for the sake of the overall picture.
I THINK WE'VE CREATED SOMETHING WITH AVATAR 2 THAT NO ONE HAS EVER DONE BEFORE. THE UNDERWATER SCENES IN THIS MOVIE HAVE NEVER BEEN DONE IN ANY OTHER MOVIE.
The pool we worked in was built specifically for this purpose. It was put together in a studio here in Manhattan Beach, you could change the depth, change the angle of the pool, but we could also make giant waves and currents in it. It's amazing even to me to think that most of the action in Avatar 2 was not exclusively CGI. As many elements and creatures as possible were really created, so that the audience's experience was the best possible.

Photo credit: 20th Century Fox


How challenging was it to work with the actors underwater?
What was extra difficult was that we were working with children. Teaching them to scuba dive and freedive was not easy. Plus, the children are quite impulsive, so we had to take care of them with extra attentiveness, especially the youngest, Trinity Bliss, who plays Tuk. Several actors had scenes where they spent a very long time underwater. Kate Winslet is an absolute water bug, she loved it all, she even went to Tonga to swim with whales. She really fell in love with diving. When we were shooting  6-7 minute breath-holding scenes and they acted as that they just died and sank into the depths… Sometimes it was hard for me to hold back.
IT WAS HARD FOR ME TO DECIDE WHEN SOMEONE WAS ACTUALLY PASSED OUT IN THE WATER AND NEEDED HELP… AND WHEN SHE WAS JUST A GOOD ACTOR PRETENDING TO BE DYING.
During the time I spent on the set, there were dangerous situations, but I really have not seen safer working conditions than Avatar 2 in the last two decades that I have worked on movies. We were prepared for every possible situation, including what happens if someone breaks their neck in the pool, how to evacuate them safely.


Avatar 2 became famous for the fact that such technology had never been used filming underwater. Can you tell me about that?
Yes, it's very interesting how they did the motion capture, the actors were in diving suits, full of sensors, so they did everything in reality that the viewers saw. A lot of cameras were built into the pool, which were in fixed places. There were windows all around the pool, there were more cameras on the outside that filmed us, and there were actual camera operators working in the water as well. Everything was filmed from all directions, so looking back at the recordings, the angles could be varied almost endlessly.
Making the new Avatar was an extremely time-consuming job, counting the water and land scenes, the crew spent 4-5 years on it.
You also worked with Alien star Sigourney Weaver, you mentioned. How was working with her?
She is a very smart actress, if you watch the movie, you will notice that her character wears a Stanford T-shirt when she is seen in the role of the scientist, and she really was a student of this prestigious university. Sigourney Weaver was the one who always spoke kindly to every crew member, whether it was someone who was just there to sweep the set. She was never late. She listened with reverence to the instructions we gave her and always gave her best. She was my favorite of the whole cast to work with.
How much secrecy was around the movie?
It was huge, we shot scenes from the second, third and fourth Avatar movie at the same time, and you never knew which one we were shooting.
As a viewer, how much did you like the new Avatar?
I finished working on it two years ago, and only now could I see the fruits of our efforts, at a screening for the crew. During the filming, I tried to imagine how the underwater parts would look on the screen, but Cameron exceeded all my expectations. The whale scenes, on which we worked a lot, gave me goosebumps. For me, these 190 minutes went by very quickly and I didn't want it to end.
I THINK THAT AVATAR - THE WAY OF THE WATER WILL HAVE A GREAT IMPACT ON THE FILM INDUSTRY, FROM HERE ON EVERYONE WILL WANT TO GO UNDERWATER, DIVE AND EXPERIENCE THE UNDERWATER WORLD.
For me, this film is not only about diving, it contains a strong spiritual message. According to the story, we destroyed the Earth, used up everything on it, and searched for a new place to live, but of course we upset the balance of nature on Pandora as well. I hope that people will also get this aspect of Avatar 2.  People are constantly destroying Mother Earth, killing whales, burning forests in our very real life.
I hope that Avatar: The Way of Water aside from entertaining the viewers with the stunning underwater world, will also conveys a message about living in balance with Nature.
Posted on January 09 2023