Healing Gemstone Advent Calendar - full of fun surprises and lots of healing energies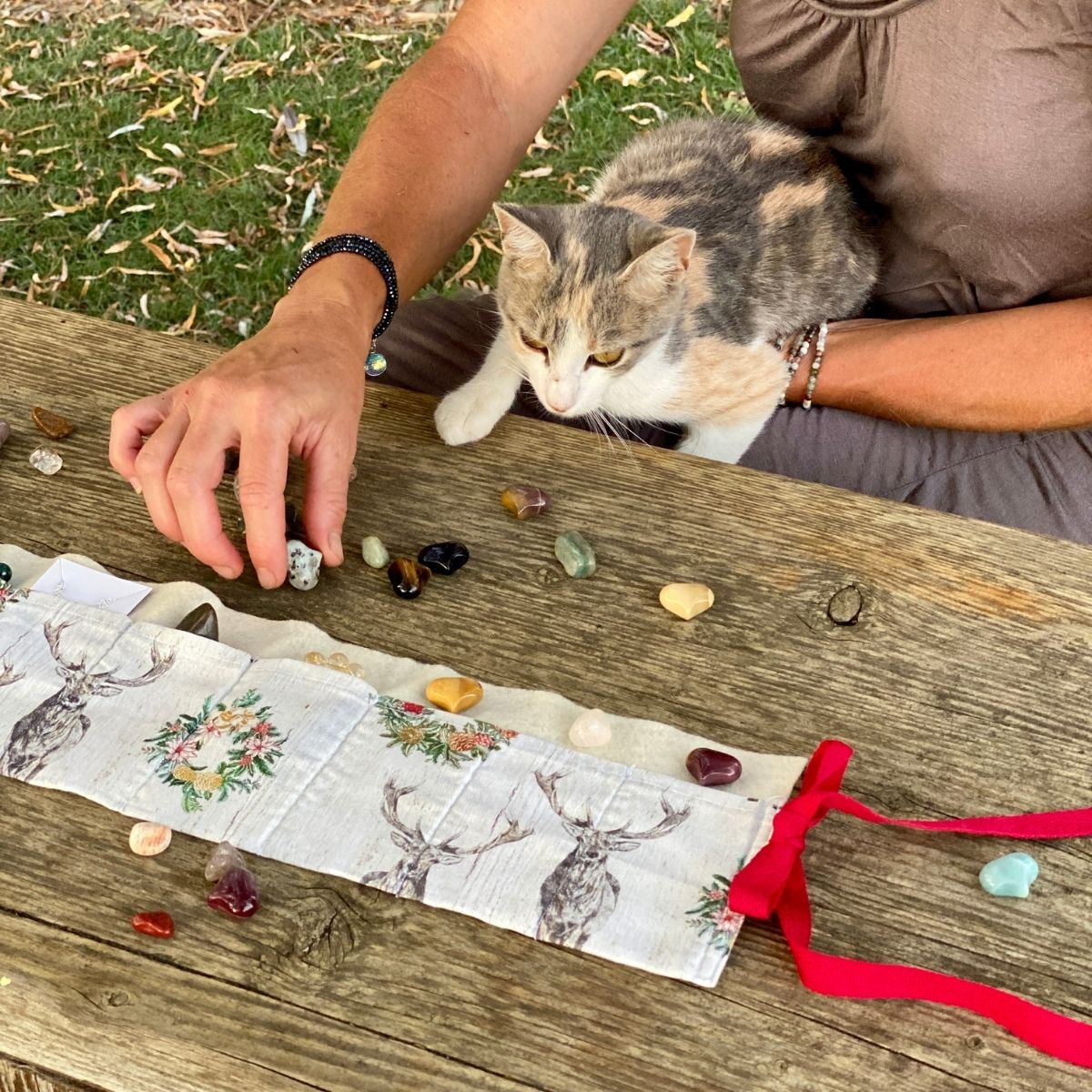 "Ok, now that Halloween is over we are totally on the (very fast) downhill slope toward the holidays don't you think?" started off Botanic Gal (chasing dreams & going green).
Because of that I thought today was the perfect day to share this brand new offering from Gogh Jewelry – their Healing Gemstone Advent Calendar! It's full of fun surprises and lots of healing energies. I was kindly sent this fun product for review.
Is there anyone out there that doesn't love surprises? I mean, I can't get enough of them (which is why l'm obsessed with subscription boxes, obviously) and an advent calendar is literally a guaranteed month of tiny daily surprises. Did I mention that I also love tiny things??

So of course it's no surprise that I always loved advent calendars growing up, even if each daily square was simply filled with the same kind of chocolate in a different shape. There is just something about having to wait to open something and then experiencing the delight of that surprise however small it may be. And that delight is just extra sparkly during the festive holiday season, don't you think?


Speaking of delight, you might know that I've recently been reviewing The Manifestation Box subscription from from Gogh Jewelry and have been enjoying the monthly deliveries of jewelry and healing tools so much (see my past reviews here).

So when I was asked to review their brand new Healing Gemstone Advent Calendar for the holiday season I couldn't say no because: a) surprises and b) tiny things. Plus, I knew it would be just as fun as the subscription I already enjoy, and as it says in the name, healing too. It's like a harmonization of all the best things!
All the Details
Now on to what's included in this cute little Advent Calendar! It contains 26 days of surprises that will be things like gemstone hearts, healing crystals, gemstone bracelets and necklaces.

Similar to the items you might find in the monthly subscription box. They are all housed in a sweet, hand-made roll-up jewelry pouch that I absolutely think should be used yearly for this same intention, but could certainly be used as a travel jewelry case or a crystal storage pouch too. 


The intention is to open one pouch each day starting on December 1st and incorporate what you find inside into your day somehow for manifestation and personal growth. The calendar comes with a gemstone information card that gives details on each stone's healing properties and will guide you on how use it in your daily self care practice for healing and reflection.

As with the subscription box, the unique handcrafted jewelry with beautifully chosen stones and the individual crystals themselves were each chosen with intention to be included in this month of healing. Each is meant to nourish the mind, body and soul.



For example, the rose quartz (one sneak that I opened up) says it's properties are unconditional love, emotional healing and compassion. If you choose to open this in the morning and say do a mini mediation to start your day off on the right foot, you might decide that with this stone you want to do a meditation about self compassion.

Or if you don't have time for a mediation you might decide to make compassion your theme for your entire day, meaning you might give yourself compassion when you forget something or give a passing stranger who seems to be in a big hurry more compassion than you normally would, things like that. Of course maybe you're just the type who wants to put together a fun outfit for the day that matches the jewelry, that's great too. It's kind of fun to come up with a way each item might be added to your day!


Since I love surprises so much, I couldn't bear to open the whole thing and share full spoilers with you so you'll have to settle for this sneak peak of sorts. So far I'm liking what I'm seeing and feel like there is and will be a great variety of items, not only in function, but a range of stones and colors too.

My calendar has 10 pieces of jewelry (mix of bracelets and necklaces) and the remaining is healing gemstones.

The fun thing about this calendar is that there are no numbers so you could certainly go in order down the line for opening each pouch up, but you could also just pull from the pouch that speaks to your soul that day. Either way, you'll definitely have a fun month full of self-discoveries.
Final Thoughts
Here is what it includes:

5 Gemstone Hearts
5 Gemstone Bracelets
5 Gemstone Necklaces
11 Gemstones & Crystals
26 pocket travel jewelry roll-up organizer
Crystal ID Card with Gemstone Healing Explanation
Free Shipping
Overall, I'm really excited about this new seasonal Advent Calendar. Like I said, it literally seems to be made for me. Since I didn't open every single one of the pouches yet, I can't comment on how much the jewelry matches my taste, but I'm sure it's lovely and simply stated as usual.

I'm really looking forward to the month of December for the full unveiling and for the aspect of hopefully creating a new daily practice habit too. I'll definitely need that grounding as the hustle and bustle of the holidays shuffles in. And of course, I want to share everything that's included in a full reveal so be sure to watch Instagram for the month of December as I open each daily pouch and share what's inside!
---
You know the holidays and the month of December is going to sneak up fast, so if you want to snag a limited edition Healing Gemstone Advent Calendar for yourself, you can follow the link right here. The cost of the Advent Calendar is $195 and contains over $475 worth of jewelry and crystals and only a limited number have been made. While you're at it be sure to use this code: BOTANICGAL for 10% off your order! Happy Advent-ing!
Posted on November 09 2021