Plastic Free Mission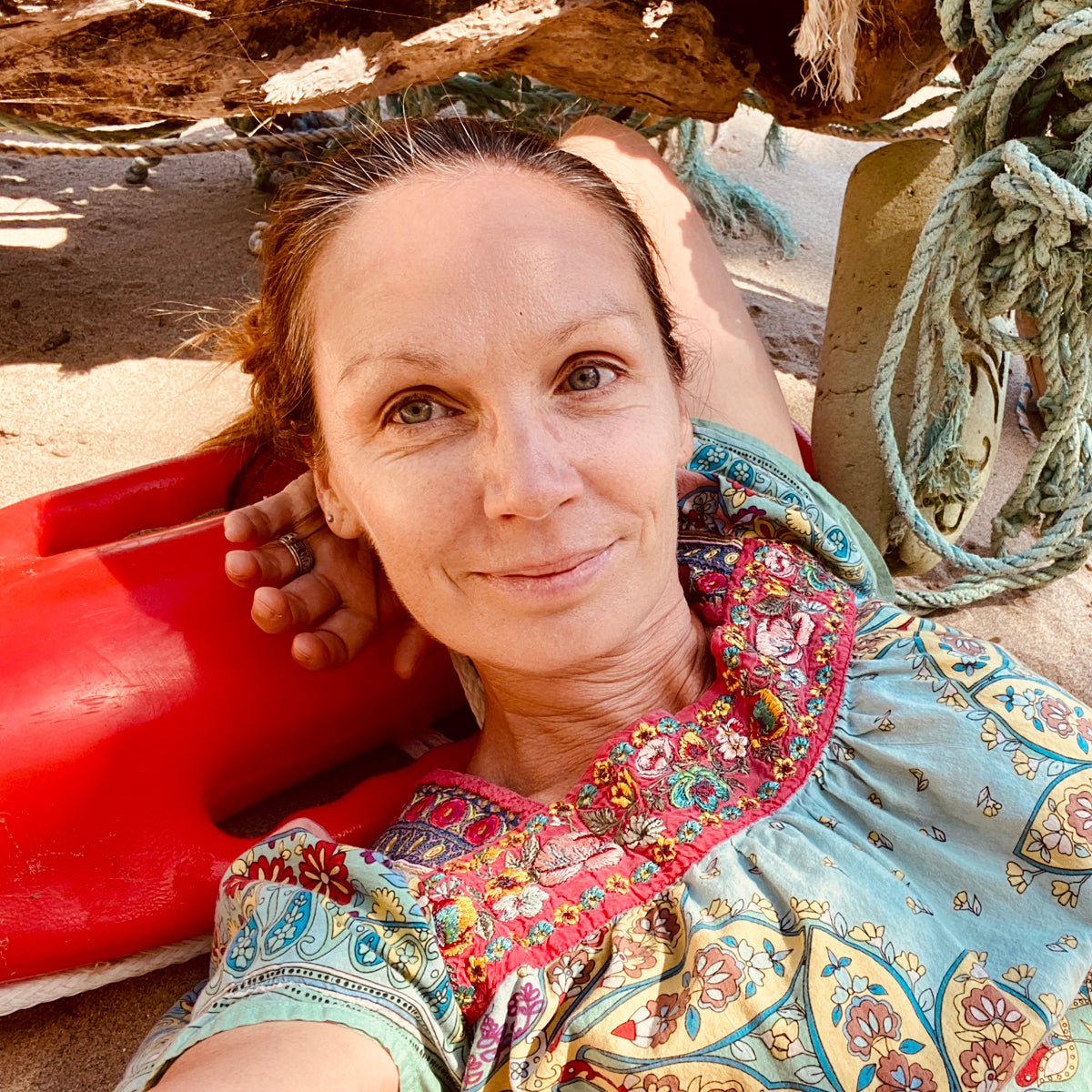 Earth Love Box featured my Zero Waste SCUBA necklace in their Eco conscious Summer 2020 Earthlove box. I have never subscribed for any monthly box service, but if I were... it would be Earth Love because their motto is simple: Live Better. Love the Earth. All the products they curated are helping Mother Nature. 
 As part of our collaboration, they interviewed me.
Q: What is the inspiration for starting Gogh Jewelry?
A: Hi, I'm Szilvia Gogh, founder of Gogh Jewelry Design. I'm a SCUBA diver, stuntwoman, yogi, cancer survivor and mom. I started my jewelry design business 20 years ago because I love beautiful things, but as an active woman, I couldn't find any silver jewelry that was both meaningful and functional - so I started creating jewelry myself. I wanted to wear jewelry that reflects my passion for the ocean, my love for travel and jewelry that inspires and keeps my positive outlook on life.

Since then, people have been drawn to my pieces for the same reason I created them. Beauty and functionality is important, especially when I'm diving, doing yoga or playing with my son Enzo. Having my jewelry be able to keep up with me and stay in one piece is so important to me, and I've learned that it's important to so many other people out there as well. Check out my jewelry and see how it could keep up with you!


Q: Congratulations on being inducted into the Women Divers Hall of Fame! How has your passion and leadership role as a diver inspired your artistry? 
A: Empowerment through teaching people scuba diving and the jewelry I create - has always been important for me. It's all about being confident in your own skin and not to yearn to be someone else, live somewhere else or look like somebody famous...

When I teach someone to breathe underwater and they experience the state of weightlessness, I open a door in their mind. After you scuba dive, you will never think the same way about Mother Nature and the possibilities in your life than before you swam underwater.
My individually crafted pieces are meant to reflect your journey through life and help you gain the confidence you deserve.

Educating people on the importance of the oceans in our lives is something I am very passionate about. That is why I created a line of jewelry that repurposes scuba diving parts into an expression of our love for the ocean and scuba divers. Sustainable fashion is possible when artisans consider closing the waste loop. I am diverting as much waste as possible from ending up in landfills, or by sources materials locally to decrease their ecological footprint.

By creating jewelry from usually discarded bits of rubber and plastic, I feel like I am making a small but significant step towards a cleaner and healthier world. And by sourcing my materials locally or when I am already traveling, I can reduce the number of fossil fuels used to get them to my studio.


Q: Could you tell us a little bit more about your Zero Waste Project?
A: We are all responsible for the future of our oceans, and recycling and up-cycling are two ways to have a positive impact on our planet. As a leader in the dive community and an inductee into the Women Divers' Hall of Fame, I feel I have a duty to live an exemplary life. According to Surfers Against Sewage, the ocean has about 51 trillion microscopic pieces of plastic floating around its depths. Trash is found on almost every beach in the world. As a lover of oceans, I know I would rather enjoy clean beaches with wildlife than plastic, metal, and rubber waste.

That is why I am so excited about our Zero Waste Project. Inspired by the parts I am upcycling, I combine my natural ocean-zen colors and textures with industrial metal and rubber. I designed these pieces to bring a sharp, modern feel to one of a kind accessories that appeal to all races, genders, and skin tones.
Influenced by others who use up-cycled fishing nets and surfboards, I found it a natural fit to find ways to reuse SCUBA parts. I repurpose these usually discarded bits to create pieces both industrial and earthy. Wearers can feel confident that their look and wallet represent beauty and a zero-waste lifestyle.

Since SCUBA divers are required to replace many of the consumable pieces of our gear annually to meet safety standards, a lot of rubber, metal, and plastic can end up in landfills. Divers gravitate to the ocean because of our love and passion for nature, so this practice, although necessary for safety, can still be wasteful. This new collection is just one small (but significant) step towards a more sustainable world, and I am so proud to be a part of it.


Q: What is one thing you would be willing to or have already given up for the health of the planet and why?
A: I do not feel that I am giving up anything for the planet, but rather that I think about Mother Nature and make counties choices to keep her safe.
I avoid disposable plastic as much as I can, so they do not end up in the ocean strangling a turtle, whale or seal…
I use refillable water bottles. I pack lunches in washable snack bags instead of zip-locks. When I buy shampoo or any products, I opt for bulk rather than small, multiple packages. I keep canvas bags in my car, so when I am shopping, I do not take plastic bags from stores I avoid helium filled balloons for birthday parties as those end up in the ocean. I do pick up trash I see on my way and conduct beach clean-ups above and bellow the surface.
I re-use, re-purpose everything in general.
I am sourcing my jewelry materials locally or when I am already traveling, so I can reduce the number of fossil fuels used to get them to my studio.
Some other ways that I strive to run a sustainable business is using as little plastic as I can, so I use canvas bags for packaging and paper products for shipping. Gogh Jewelry Design also supports non-profits that help save our oceans, such as Project AWARE, an ocean conservation group, and Heal the Bay, who oversees beach cleanups.

I also realize that social sustainability is just as important as environmental sustainability, which is why my jewelry making supports many charitable organizations. I donate part of my proceeds to several charities such as a Chance for Children, Dive into the Pink, Women Divers Hall of Fame Scholarship Foundation, and Yoga beyond Borders.


Q: What's a sustainability myth you'd like to debunk?
A: That is not up to you to save the World, you are just one person… You know the saying: Think globally, act locally 😉 If everyone changes just one little thing in their life to live a little cleaner and create less trash. Mother Nature will be happy.


Q: What advice do you have for people wanting to live a more natural, eco-friendly lifestyle?
A: Challenge yourself for a week to say no to plastic and find a way around it.
Don't litter and if you do see trash, pick it up!

Q: What's your favourite natural place to visit?
A: Naturally, the Ocean 😉

Q: Do you have a favorite quote or go-to saying?
A: Different times I have different favorites ;-) Right now I keep reminding myself that "If it was easy, everybody could do it."

Q: Is there anything else you'd like to share with Earthlove members?
A: It's a new world we live in, surrounded with uncertainty. It's time to focus our intentions for the future. Many of my jewelry designs have mantras and words that have helped me focus my intentions. I use these mantras in my yoga practice or when I meditate. Setting intentions is not as easy as making resolutions. We all want to exercise more or eat healthily or save money more effectively. But setting intentions will help us achieve our goals and resolutions by focusing our energy on our innermost self.
Check out Earth Love Box at https://earthlove.co/