Repurposing shark chainmail Sharksuit waste into jewelry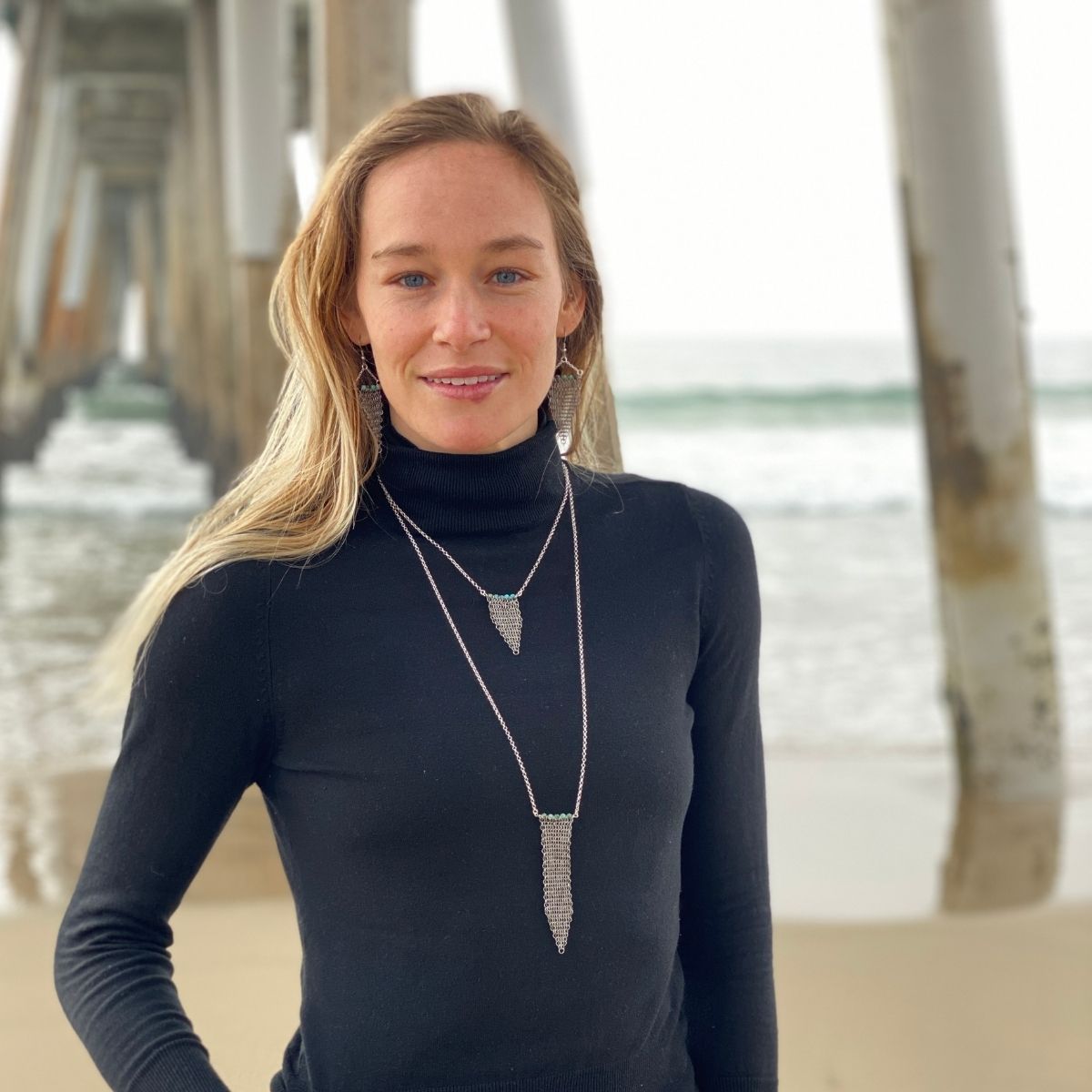 My friend and my brand ambassador Cristina Zenato called me last year and introduced me to Neptunic.

She is an amazing educator about sharks and my sea sister at the Women Divers Hall of Fame.

She knows my passion for a sustainable lifestyle and suggested to collaborate with Neptunic and find a way to repurpose their left over shark suit into jewelry. Of course I said YES ;-) Check out the press release:
Neptunic & Gogh Jewelry Design are happy to announce a jewelry collaboration.  Szilvia Gogh, designer & owner of Gogh Jewelry Design, has been creating beautiful pieces of jewelry derived from upcycled scuba equipment pieces, as part of her Zero Waste Collection.  We loved the concept; and asked her to repurpose our chainmail waste accumulated during Sharksuit fabrication, into gorgeous pieces of handcrafted jewelry using only the finest beads and sterling silver. 
Recently inducted into the Women Divers Hall of Fame, Szilvia Gogh was the youngest female in the world to become a PADI Course Director. A PADI Ambassador, she has been teaching scuba diving from beginners to dive instructors for over nearly two decades in her native Hungary, as well as Malta, UK, Thailand and California. She is also a photojournalist, for numerous international scuba, lifestyle and adventure publications including her media company Miss-Scuba.com  
Neptunic values the importance of protecting our oceans and marine life and that is why partnering with Gogh Jewelry Design made sense.  As Szilvia says, "We are all responsible for the future of our oceans, and recycling and up-cycling are two ways to have a positive impact on our planet. As a leader in the dive community and an inductee into the Women Divers' Hall of Fame, I feel I have a duty to live an exemplary life. According to Surfers Against Sewage, the ocean has about 51 trillion microscopic pieces of plastic floating around its depths. Trash is found on almost every beach in the world. As a lover of oceans, I know I would rather enjoy clean beaches with wildlife than plastic, metal, and rubber waste."
As a leader in shark interaction & research, Neptunic products reflect a commitment towards offering clothing & gear that do not leave a large footprint on the environment.  Our newest collaboration with Gogh Jewelry Design is a reflection of that commitment.
Posted on February 22 2022