Unlocking Serenity: 12 Days of Mindfulness Extravaganza with Gogh Jewelry Design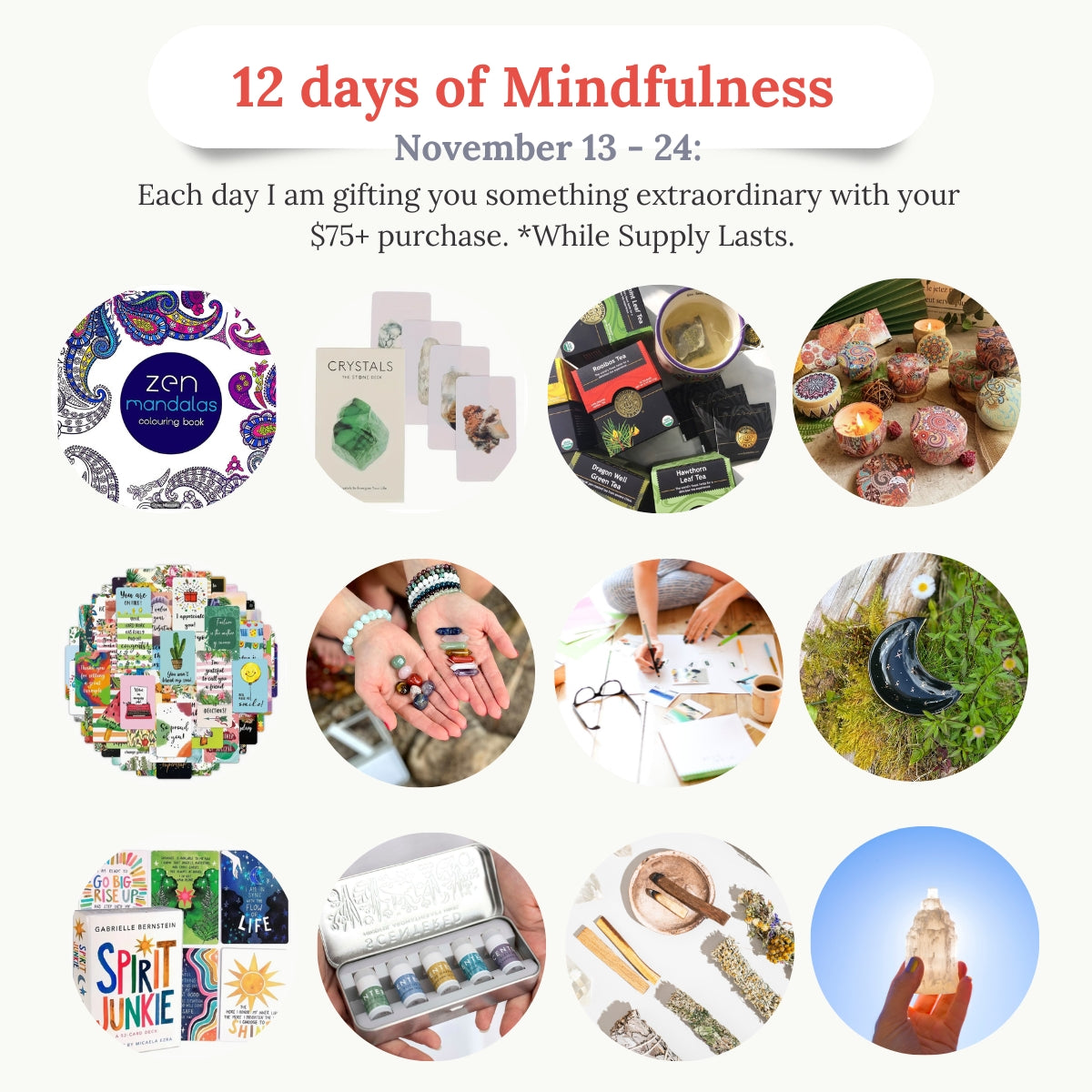 In the whirlwind of holiday cheer, you often find yourself juggling a million things at once, racing against the clock, and battling the ever-growing to-do list. I believe it's essential to take a moment for ourselves amidst the chaos, to center our soul, and embrace mindfulness.
That's why I'm excited to unveil my "12 Days of Mindfulness" campaign, a magical journey to tranquility and serenity during the bustling holiday season.
Starting on November 13th, I invite you to embark on a 12-day adventure with me, where each purchase will be a gateway to mindfulness and daily surprises! Are you ready to unwind, embrace the present moment, and find solace in the midst of holiday madness? Let's dive into the treasures that await you:
Daily Empowerment Stickers: My classic "Get 5 Empowering Stickers with Every Order" offer remains as your daily dose of inspiration. Uplifting quotes, beautiful designs, and motivating messages that will be the spark of positivity throughout your day.
Mindful Surprises with Every Purchase: For orders of $45 and more, expect an extra dash of delight with a surprise gift. The anticipation builds as you open the package, wondering what serendipitous treasure you'll unveil.
Daily Special Surprises: Here's where the magic truly unfolds. During these 12 days, every order of $75 or more will receive a unique, enchanting, and exclusive daily special surprise add-on, designed to nurture your mindfulness journey. And the best part? Each special is live for only 24 hours or until supplies last that day, so act swiftly to secure your daily dose of tranquility.
A Sneak Peek into the Daily Surprises:
Zen Mandala Coloring Book: Immerse yourself in the art of coloring mandalas, a mindful practice that calms the mind and sparks your creative spirit.

Crystal Deck Cards: Discover the wisdom and healing powers of crystals with this enchanting deck. Each card is a window into the energy of a different crystal, guiding you towards inner balance.

Tea Sampler: Sip your way to serenity with a delightful assortment of soothing teas, perfect for relaxation and introspection.

Soy Candle: Let the soft glow and calming aroma of a soy candle fill your space, creating a peaceful ambiance for your mindfulness practices.

30 Affirmation Cards: Fuel your day with positivity and self-love with this set of affirmation cards, designed to uplift your spirits.

Chakra Balance Kit: Align your chakras and find harmony within. This kit is your passport to inner equilibrium and vitality.

Guided Crystal Cleansing Ritual: Dive into the mystic world of crystal energy with a guided cleansing ritual, helping you release negative energy and embrace positivity.

Jewelry Dish: Keep your cherished pieces organized and display them beautifully with my elegant jewelry dish.

Spirit Junkie Mental Health Card Deck: Explore daily wisdom and guidance for your mental well-being with this inspiring card deck.

Aromatherapy Box: Elevate your senses with an aromatherapy box that contains a selection of essential oils and diffusers for ultimate relaxation.

High Vibration Selenite Tower: Elevate your space with the serene presence of a Selenite tower, renowned for its high vibrational energy.
Each day promises a new surprise that will whisk you away to a world of serenity and mindfulness.
Stay In the Loop: Don't miss out on the daily surprises! To keep the excitement alive, I'll alternate between announcing each day's special via email and SMS. Make sure you're subscribed to my SMS updates to be among the first to know what awaits you.
The "12 Days of Mindfulness" campaign is a celebration of the power of mindfulness, self-care, and the joy of giving. It's an opportunity to pamper yourself or share the gift of serenity with loved ones.
So, clear your mind, make space for tranquility, and get ready to embrace the serenity that the holiday season has to offer. Mark your calendars, subscribe to my SMS updates, and prepare for 12 days of pure, unadulterated mindfulness with Gogh Jewelry Design.
Let's embark on this incredible journey together, and rediscover the magic within ourselves this holiday season. I can't wait to share these moments of mindfulness with you. 🌟✨💎 Stay strong, stay positive! Love, Szilvia Gogh
Posted on November 05 2023